Art inspiring nights often form artwork. One instance of this was a trip to NYC in March 2011. I went to attend a record release party for Ariel Aparicio. I also went to meet a man (Charlie) in person who would become my best friend.  Yes, I'm one of those people who meet strange men and women on the Internet. I've met several people I've been friends with online – some have panned out to be great friends, others are crazier than batshit.
But back to my art – that night was cold and rainy. This brilliant girl right here had the bright idea to not wear her jacket. And I was smart enough to know that we'd be walking several blocks. I don't know what I was thinking, maybe that I'd be warm enough because I used to always be hot when everyone else was cold. Well, it was freezing, it was raining. Did I mention, I was wearing a thin white shirt? And a pink bra? Not the best decision-maker that night right here.  Charlie had great fun ribbing me about my clothing choices for a wet rainy night in Brooklyn.
It was great to finally get to meet him in person. He is just as great as I thought he would be. He's now one of my very best friends like I'd die for him kind of best friends. Ariel played one of my favorite songs for me – "Pretty in Pink" which was a phenomenal experience since the drummer from The Psychedelic Furs was playing drums for him that night.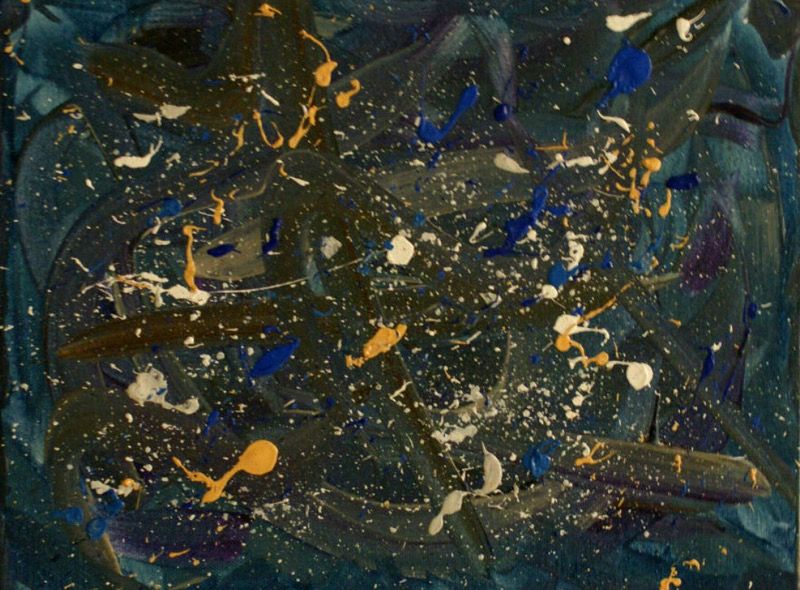 When I returned home, I channeled all that fun and excitement into an abstract acrylic art piece. The dark blues and purples were the darkness of the Brooklyn night, the white the shirt, the greys the rain and the gold the light that meeting Charlie brought to my life.
I later donated this painting to a benefit auction whose proceeds went to RAINN.