Yes, you can make Alfredo sauce at home yourself. And it is ah-maz-ing! I actually love this more than pre-made Alfredo sauce and the Alfredo sauce on pasta in most restaurants.
While I took a couple years to work at home making jewelry, painting and taking care of myself, I started making all different kinds of food from scratch. Yes folks, I LEARNED TO COOK! I stopped burning water!
Everyone who knows me understands what I'm talking about. I have a tendency to get distracted and forget whatever I have cooking, especially if it's on the top of the stove. Baked goods have always stood a better chance, but not always.
No pre-grated cheese!
You'll want to get Parmesan cheese that hasn't been grated yet. The pre-grated cheeses have anti-caking agents added to them that affect how the sauce sets up.
Don't forget the nutmeg!
It may seem out of place, but yes it is essential.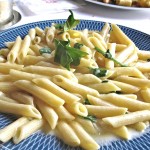 Ah-ma-zing Homemade Alfredo Sauce
This is an amazing homemade Alfredo sauce. Definitely better than jarred!
Ingredients
1/2

cup

butter

8

oz

cream cheese

cut into at least 8 pieces

1

cup

half and half

1/3

cup

Parmesan cheese

grated yourself

1/2

tablespoon

garlic powder

or to taste

1/8

teaspoon

ground nutmeg

1/4

teaspoon

black pepper

or to taste
Instructions
Melt butter in a medium saucepan over medium heat.

Once butter is nearly melted, add cream cheese.

When butter and cream cheese are blended well together, add the half and half, Parmesan cheese, garlic powder, nutmeg, and pepper. Stir until well mixed. Don't rush the mix and scald the dairy products.

Once it's well blended and saucy, remove from heat and set aside to thicken. Stir every few minutes.

Once thickened to your liking, enjoy over your favorite pasta.
Recipe Notes
The nutmeg is important, it really brings out a nuance of flavor you wouldn't expect.
Use block Parmesan cheese. Pre-grated has anti-caking agents which affect the outcome of the sauce.