I've been busy with physiotherapy and dental appointments the last 2 weeks, so I've been away from the blog. I know the most recent post was a recipe, but I'm missing New Orleans and am craving the food down there, so have to share this Crawfish Filé Gumbo recipe with everyone.
Physio is going good. It's helping already with just a few visits. Now if I could just stop hurting myself and having flare ups of MCAS and migraines. I've had to miss a few appointments. I tripped over a power cord to my heating pad yesterday and dislocated one of my toes! It's all bruised up. I'm taking today off from Physio because of that, and going back next week.
Also, at my dental cleaning last week, the dentist found a broken filling (well I knew about that one), a new cavity, and 4 other teeth with demineralization that he wants to treat before they start getting cavities. The broke filling and one other tooth have been fixed. Now I have 2 more visits. I ordered some mouthwash with xylitol, some gum with xylitol and no artificial sweeteners, and a toothpaste from the UK that is supposed to help remineralize your teeth. The FDA won't approve the ingredient in that toothpaste for OTC use here in the states, but it can be used by dentists. I couldn't figure out why my teeth were demineralizing so bad so suddenly, but I realized – I'm not chewing gum now that I'm not working. I had been chewing gum that had xylitol in it daily when I was working. All my meds for my chronic illnesses lead to dry mouth, plus EDS causes dental problems too. So hopefully I can get on top of this.
Onto the Crawfish Filé Gumbo. Most recipes call for onions and tomatoes, but both of those are on my no-go list, so I leave them out. I will sometimes, to the chagrin of my body, eat gumbo made by restaurants if I'm feeling daring and decide I want to deal with the consequences at the time. Also, many recipes call for okra, but I haven't gotten brave enough to try cooking my own with okra. There are some beautiful okra plants, so I might grow these next year and try it!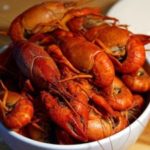 Delicious Crawfish Filé Gumbo
A delicious tribute to New Orleans cuisine
Cook Time
1
hour
15
minutes
Total Time
1
hour
30
minutes
Ingredients
1/4

c

vegetable oil

1/4

c

butter

1/2

cup

all-purpose flour

1 1/2

Tbsp

minced garlic

1

tsp

garlic powder

6

c

seafood, vegetable, or chicken stock

1

lb

crawfish tails

1/4

c

chopped parsley

1/4

c

chopped celery leaves

1

medium bell pepper

diced

1

Tbsp

Creole Seasoning

2

tsp

salt

1/2

tsp

red pepper

1/2

tsp

black pepper

1

Tbsp

gumbo filé powder
Instructions
In a large Dutch oven or heavy bottomed saucepan combine melted butter, oil and flour until smooth.

Cook on medium heat, stirring continuously, for about 20-30 minutes or until it turns a rich dark brown color. Don't leave the stove during this process, you don't want burnt roux! Remove from stove and let it cool.

Return the saucepan back on the stove. Add the garlic and green pepper and cook for 8- 10 minutes while stirring frequently.

Then add crawfish, creole seasoning, and red pepper and let it cook for 5 minutes.

Add the stock, bring to a boil and let it simmer for about 45 – 50 minutes.

Stir in filé powder, chopped parsley, and chopped celery leaves.

Adjust flavor with salt and black pepper.
Recipe Notes
Walmart occasionally has frozen crawfish tails.
Kroger sometimes has frozen alligator too! My next batch I'm adding alligator to it!
You can add Andouille sausage, shrimp, crab meat, or chicken to this and it still tastes great.