West Virginia has a Scottish Heritage Festival every summer. It's a blast to go to and there's some great food, great music, and great fun. I had my first welsh cakes there a few years ago and fell in love. They're just a tad sweet and keep well.
Welsh cakes are a bit labor-intensive compared to some treats since you have to man the griddle or cast-iron skillet, but it's worth it! History has it that these were often found in Welsh coal miners' meals.  It's nearly impossible to find real currants here in this area of the US. Zante currants are in fact a kind of raisin.
I need to make another batch of Welsh cakes. I'm out again!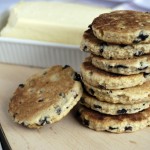 Welsh cakes (picau ar y maen)
A lovely mildly sweet biscuit
Prep Time
1
hour
25
minutes
Total Time
1
hour
55
minutes
Ingredients
2

cups

all purpose flour

3/4

cup

sugar

plus more for sprinkling

2 1/2

teaspoons

baking powder

1

teaspoon

finely grated orange zest

1

teaspoon

grated nutmeg

1/2

teaspoon

salt

1/4

cup

1 stick unsalted butter, cold and diced

1/4

cup

lard

cold and diced, plus more for cooking

3/4

cup

currants

2

large eggs

slightly beaten

2-3

tablespoons

buttermilk

I've used regular milk too

Lard for cooking
Instructions
Combine the flour, sugar, baking powder, orange zest, nutmeg and salt in a medium bowl. Mix in the butter and lard with your fingertips until the mixture looks sandy. Stir in the currants. Beat the eggs and 2 tablespoons of the buttermilk together. Stir into dry ingredients to make a shaggy dough, adding more buttermilk if dough is dry. Gather dough into a flattened ball, wrap in plastic wrap and chill for 1 hour.

Roll the dough on a floured counter into a piece about 1/4" think. Cut into 2 to 3" rounds. You can also separate small balls and roll out into small 2 to 3" flat rounds by hand individually.

Heat a griddle or cast iron skillet over medium-low heat. Brush the pan with lard. Cook the cakes until a pale golden brown and cooked through, about 4 or 5 minutes on each side. Low, slow and steady wins the race with these. Move to a cooling rack, dust with sugar and cool.
Recipe Notes
Cooking time is for the entire batch using a medium sized cast iron skillet. A larger griddle means a shorter cooking time because you could do more at once.