Disclosure: I received the Cassani Fogless Shatterproof Shower Mirror free, but paid shipping, from the Cassani Company to review through Tomoson for an honest review.
The Cassani Shatterproof Fogless Shower Mirror is a lightweight nifty little addition to the shower. It weighs in at just over 6 ounces and measures 7.5 x 5.7 x 0.1 inches. Yes, this mirror is really that thin and that lightweight! It comes with a stainless steel hook to hang it and a stainless steel razor hook as well. These are adhesive. Cassani recommends cleaning the shower wall well with rubbing alcohol before applying the hooks. I haven't used the hooks yet. I use Command Hooks in my shower, which have stood up well for 2 years so far for other purposes. My Command Hook holds the mirror just fine. The razor hook also does not hold my Venus razor, so I've not used it either. My razor just falls right out. So I don't recommend the razor hook at all. The hook for the mirror seems to hold the mirror well from just me holding it in my hand.
I have dropped the Cassani mirror from a 6 foot height numerous times onto a laminate floor to test the shatterproof claim, both flat and on its edge. It hasn't shattered and there aren't even any dings that I can see. I've only used it in the shower once since receiving it, but ran the shower for a few minutes a second time. It has not fogged up either time on me.
Cassani recommends giving it a little rinse with warm water and rubbing your palm over it as it runs under water as needed to clean it, using no soap or cleaning products on it including cloth. Also from the Cassani literature: "Additional Cleaning – The ongoing problem with *all* fogless shower mirrors is that they don't last forever, but the way to extend their lives longer is with the rinse and wipe technique above and also giving it a light wash with 50/50 vinegar and warm water."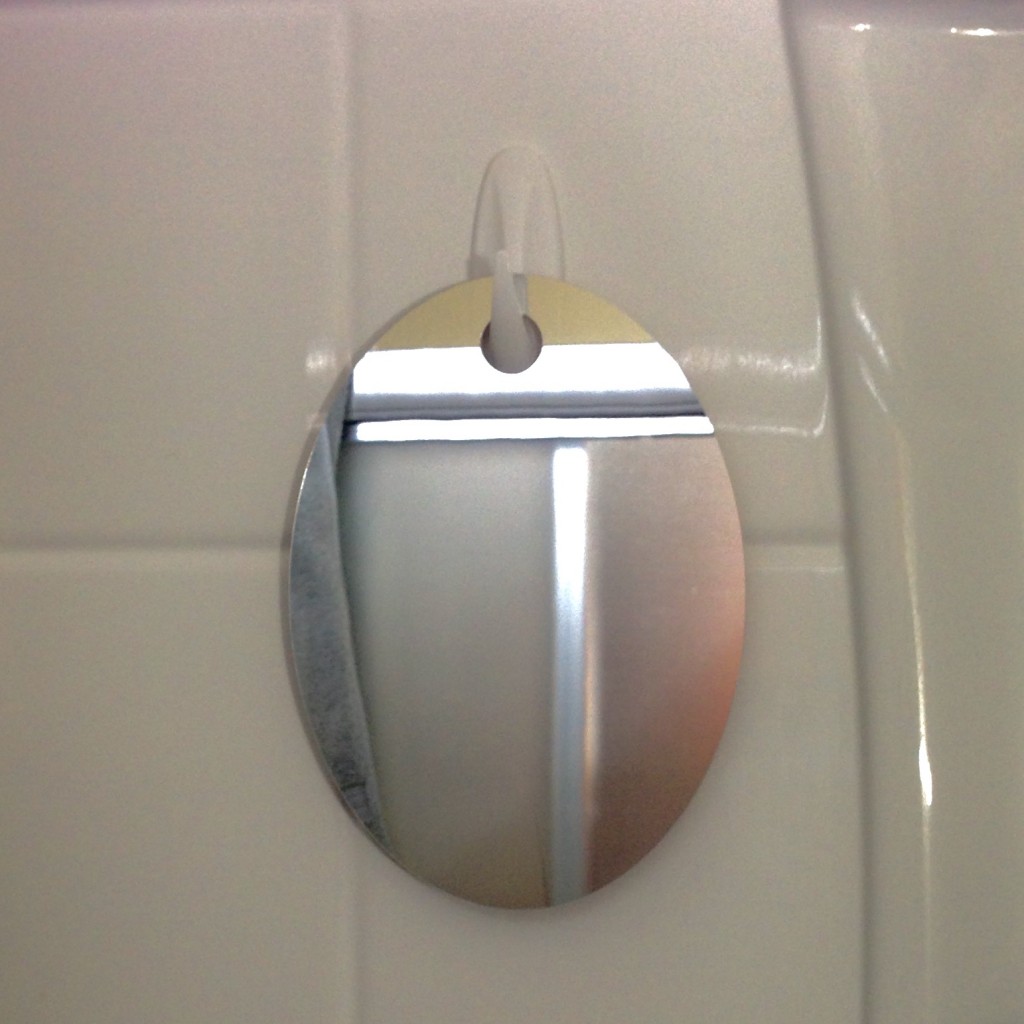 For the price, which is currently $13.99 plus shipping on Amazon, I'd consider purchasing this again. We've not had much luck finding a good fogless bathroom mirror of late and have gone through two in as many years trying to find a new one.