As I've mentioned before, I've recently taken up watercolor painting. It's a difficult medium to work with, but I love a challenge. Using watercolors definitely has a learning curve, but I'm loving how demanding it can be.
First Experiences With Watercolors
I tried watercolor a few years ago and just was not pleased with my first attempts. I think it was partly the paints I started with. I started with a student quality Winsor and Newton Cotman Pocket Plus Travel Palette. Some people have great results and are happy with these, but I just can't deal with them. Here's the first painting I made with the W&N Cotman.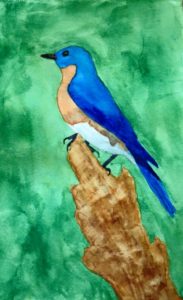 I also tried to do some sketching/watercolor painting back then and did not have great luck. I forget which pens I used for all of it, but they obviously were not water-resistant as you can see. The black pen is a Micron Pen, which I absolutely adore.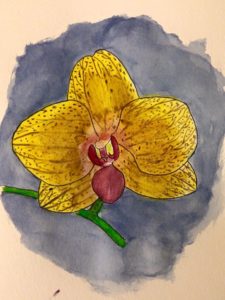 Moving On To Professional Tools
One of my friends from the Flying From Home game (if you like online games, you should check it out), sent me samples of M. Graham, Da Vinci, Daniel Smith, and American Journey watercolor paints over the winter this year. She also sent me a few higher quality brushes, as well as a few different samples of watercolor paper. Having better tools and paints to work with has made such a world of difference. If you want to try watercolors and you can find it in your budget, definitely invest in higher quality, professional paints, tools, and paper. You'll thank yourself for it. Here's my first painting with professional quality supplies.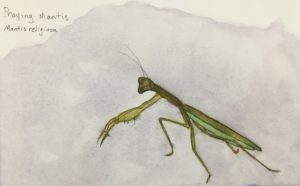 The praying mantis was a quick little sketch and painting to play with the paints, after doing some swatches in another sketchbook – I'll make another post sometime about my swatch sketchbook. I moved on to a more complicated sketch and took my time on this one and tried out playing with layers. This is a ball python.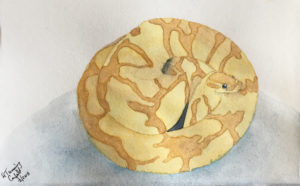 Practice, Practice, Practice
You can see I still have a ways to go with it, but there's a definite improvement over my first paintings. I think I did better, but you can see I need lots of studio time still. I have to practice layering and shading a lot more. I have a tendency to start with too much color to start. If I could only get myself into the routine of sketching and painting daily or at least weekly, maybe that wouldn't be as much of a problem. I did one for Ostara that helped me with practicing layers. Let me know what you think of this bunny. It's modeled after lynx mini rex which I used to breed and show.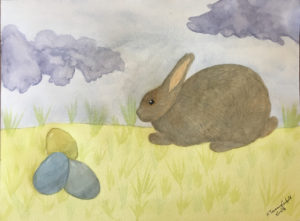 I even have tried some different techniques to simulate bubbles. I tried alcohol – the layer I tried it on was too dry to work as it should, but I discovered that it does make a nice effect with the next layer if the alcohol isn't totally evaporated yet. This is the lovely butterflyfish I did a few months ago. Since I painted the water first, I used Schmincke Masking Fluid to keep the dark paint out of the areas I wanted to stay lighter. This masking fluid is latex-free if anyone needs that! I find it works well for me, but like many reviews report, you must make sure it's completely dry before painting and it should be removed within just 2-3 days to make it the easiest to remove from your watercolor paper. What do you think of my butterflyfish?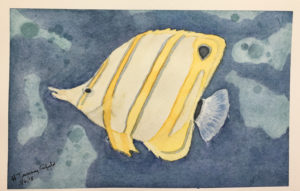 Newest Project And My Favorite Tools
I need to convince myself to get back into the studio and do the little quick floral studies I have planned and taped out already. This has been sitting on my desk for over a month, calling for me. I just haven't been motivated.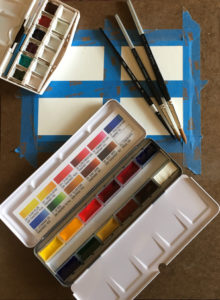 That little palette is the palette from the W&N Cotman travel palette repurposed to hold QoR watercolors. The other palette is a Da Vinci Full Pan Travel Set as sold pre-filled on their site. Right now, with any $50 purchase on their site, they'll send their 24 primary color sample card. These cards are how I got introduced to Da Vinci. There is definitely enough paint to do a few paintings in them. One of the brushes is a Silver Brush Black Velvet. The other two brushes are from the Miller's Pseudo Sable Limited Edition Brush Sets. Both of these brands of brushes I find to be spectacular.
*Some of the above links are affiliate links. I get a small commission if you purchase through those links, but there are no additional charges added for you. If you are not comfortable with that, please Google search and purchase these items on your own.