Toderick, my orange Pomeranian, was euthanized on January 21, 2015. He had been ill for several years. He was a lovely little man we have driven 10 hours round trip to Medina, Ohio, to adopt. We didn't know for sure we would be coming home with him from the rescue.  We adopted Boo on October 13, 2001. 
Toderick's Story
Toderick had been abandoned at a veterinary hospital before he had come to the rescue. To say he was a little "miss-wired" was an understatement. Tod was fear-aggressive, dog-aggressive, and food-aggressive. He didn't know how to play with toys. He bit me hard enough to draw blood just a day or two after coming home – and countless times after that.
My Shadow
Even with all of his aggression issues, Toderick was my heart and soul. He traveled everywhere with me. I had never been away from home alone for more than a day or so before traveling 3 hours away at 28 for a preceptorship. This preceptorship was at the veterinary hospital that is partnered with the wild bird rehab center with which I volunteer still.  Boo went with me every week and stayed in the cabin at the rehab center for 2 1/2 months.
Toderick's Health Saga
I finally had to euthanize Toderick on January 21, 2015, because of heart and respiratory problems. His ailments resulted in seizures and syncope episodes that caused periods of what can only be described as respiratory arrest before he would begin breathing again. He had an episode while he was at the veterinary clinic with me at work enabling me to finally make the decision to let him have "the good death."
Boo's health problems throughout his life with us included: luxating patellas, a curved front leg, nerve damage causing pain in his hips, chronic pancreatitis, long term hair loss, a collapsing trachea, a mass in his neck which displaced and dilated his trachea before it constricted, a heart murmur, pulmonary issues, seizures, syncope, an ACL repair, head trauma from a fall down the basement stairs, canine cognitive disorder and hypothyroidism.
Using Art To Heal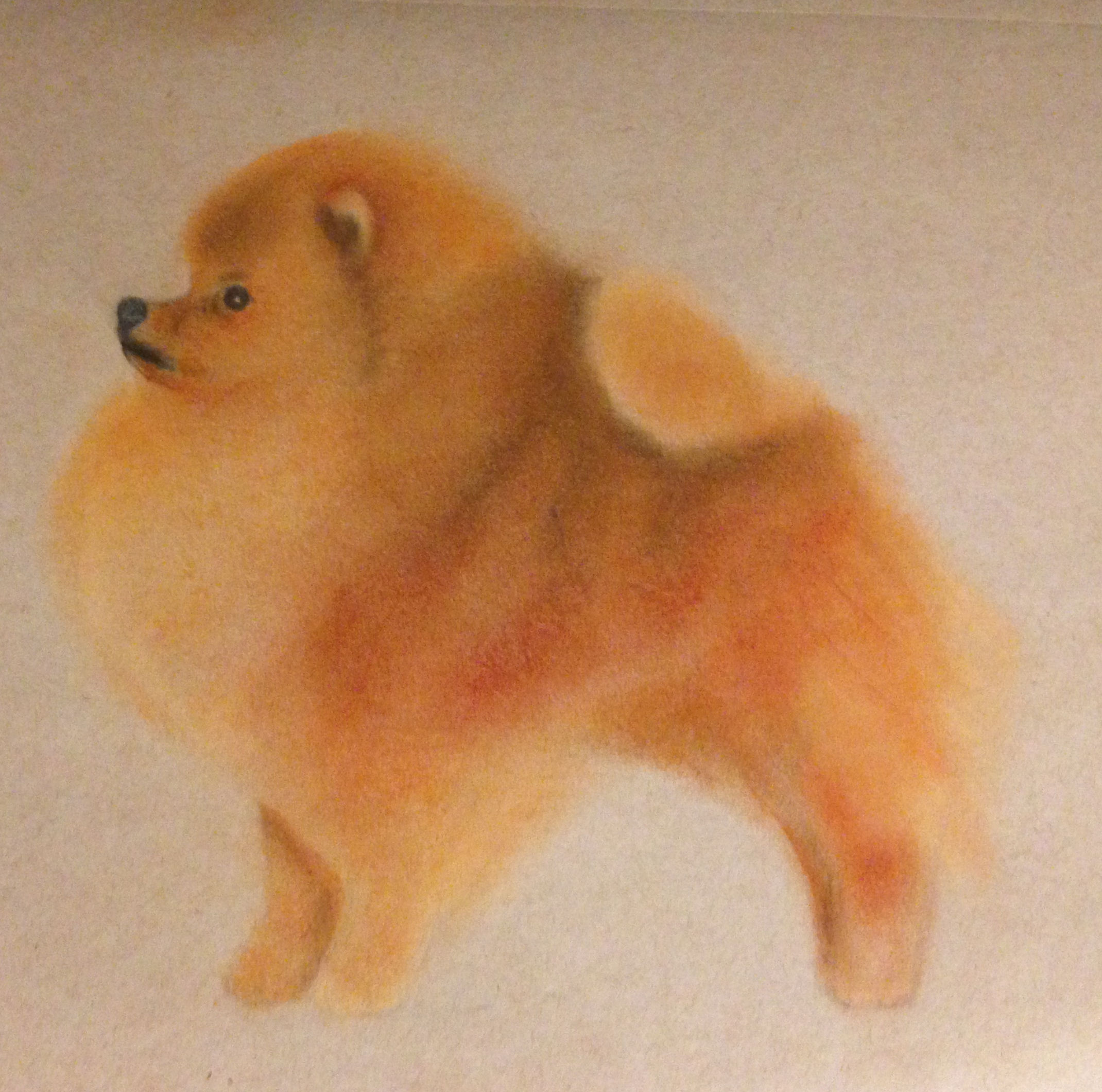 As I realized I was losing Toderick, I turned to my art. I had been toying with soft pastels and hadn't connected completely with the medium yet. It seemed that I just needed a subject with which I connected deeply.  This soft pastel was done as a tribute to my late Pomeranian Toderick. I finally got brave enough to enter a few pieces of art in a local art show. Imagine my surprise when I received a Merit Award at the 2015 West Virginia Strawberry Festival Upshur County Arts Alliance Amateur Show.
Like my artwork? Purchase it through RedBubble or FineArtAmerica.