Anyone close to my husband knows that he abhors brussels sprouts. That was until I discovered this way of making that "horrid vegetable!" He eats these with gusto and actually occasionally asks me to make them again. Now that first time talking him into trying them was like getting a 2 year old to try anything new.
The fabulous thing about this recipe is that you can just take the frozen bag out of the freezer and pop them into the oven, no thawing required! The sprouts stay relatively firm and crunchy. For even more crunch, you can use raw Brussels sprouts by increasing the baking time to about 45 minutes – keep checking them until they're nice and toasty. Just make sure you take all the yellowed leaves off the outside of the sprouts and trim the stems down.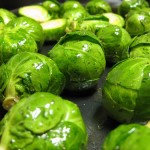 Roasted Brussels Sprouts
A delicious nutty tasting roasted warm treat.
Ingredients
16

oz

Brussels sprouts

frozen

3

tbsp

olive oil

1

tbsp

Greek seasoning

1/2

tsp

sea salt

2

tbsp

sunflower seeds

1

tbsp

lemon juice
Instructions
Preheat oven to 425 degrees F (220 degrees C).

Spread frozen Brussels sprouts on a baking sheet. Cover with olive oil. Sprinkle with Greek seasoning and sea salt. Toss gently to coat.

Roast in preheated oven for 20 to 25 minutes until hot and fragrant. Sprinkle with lemon juice and sunflower seeds and serve.