I know everyone loves a good deal, and Prime Pantry today is amazing! I decided I wasn't dealing with the mess of the grocery store today for a few groceries. Plus I had to see how much I could save with Prime Pantry discounts today. These amazing discounts stack! Delivery for what I ordered is supposed to be Monday July 9th also. I love Amazon Prime and Prime Pantry, so I had to share this with you! I've been a Prime member for 3 years and don't regret it at all! I've been using Prime Pantry for about 2 years as well.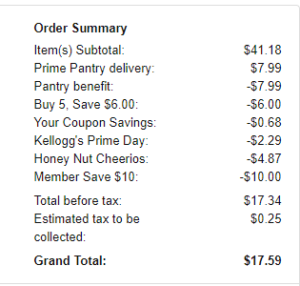 Just look at those savings! My subtotal before any discounts was $41.18! I had a total of 5 family size boxes of cereal, 2 bags of snacks, chicken stock, sports drinks, and micellar water.
The first discounts come from being a Prime Pantry member. This new Prime Pantry Membership for $4.99 a month gives you free shipping on any Prime Pantry order over $40. You can sign up now for a 30-day free trial too! If you find yourself ordering Pantry items often, this will save you money in the long run, because shipping is $7.99 for each shipment otherwise. Any Prime member can order from Prime Pantry, but you don't get the benefit of free shipping. If you sign up now, you can save $10 off a $40 order by entering PANTRY at checkout. You do have to be a Prime member to join Prime Pantry.
My second discount is from their Buy 5, save $6 deals. They nearly always have some kind of deal like this going on in Prime Pantry when I've shopped. Prime Pantry also has coupons you can "clip" for some items, you just have to be mindful to look for them under the price of the item. The chicken stock here had a coupon to clip and I saved $0.68 on it.
Other discounts for Prime Pantry leading up to Prime Day I took advantage of was 50% off Frosted Flakes, as well as a free family size box of Honey Nut Cheerios with a $40 purchase.
Your savings can add up every day as well. I often find wonderful deals like this if I poke around on Prime Pantry for a few minutes longer than just hopping on and going straight for what I'm looking for.
You can sign up now for a 30-day free trial of Prime and take advantage of Prime Day coming up on July 16th. Prime Day always has some amazing deals. This year they've started early with a great deal on the Echo Show for $100 of regular price – It's only $129.99 through July 16th at 5pm PDT. After your 30-day free trial, the membership costs $12.99 a month. You do get access to other benefits as well, like certain free content on Amazon Video, some free books and magazines on Kindle, and free content on Amazon Music.
Want more Kindle Content? Right now Kindle Unlimited is $0.99 for the first three months. More Amazon Music? Amazon Music Unlimited is $0.99 for the first 4 months.
If you have an EBT card or receive Medicaid, you can get a discounted Prime membership for $5.99 a month after a 30-day free trial. You will be asked to enter information to verify that you have an EBT card or Medicaid.
College Students can also get Prime at a discounted rate. Right now there is a 6-month free trial, then it's a $6.49 a month charge.
Some of the above links are affiliate links. I get a small commission if you purchase through those links, but there are no additional charges added for you. If you are not comfortable with that, please go to Amazon directly and purchase these items on your own.